12 Days Ago: Make-Up & Design
08:30:00
Phew, finally I got my spare time to tell you about several stories. Last weekend, or for the exact date was October 8th, 2011, I had 2 big agendas: Graduation Make-Up Challenge & c2o's DIY Talk Design Business & Management.
If you read my past posts, I've already told you that I have a challenge, to do make up for my boarding house mates in their graduation day. I feel honored, but afraid at the same time. I'm not a professional make-up artist. I love to do experiment in make up, but usually for my self. I did several make-up test to them, days before to know their comments and critiques. And, here it is the results!
She have several special features in her face:
long chin, definite eyebrow and mellow eyes.
She doesn't want to look too different in her graduation day, so I just stressing make up in lips and eyes.
This is the picture after the graduation procession. Yes, she was sweaty to the max. I actually have her photo just after the make-up done. I want to take it candidly, but she turned her head and her face covered. =(
#2 Fanny
Her special features: slight eyebrow, thin lips, slanted eyes and she usually wear glasses. For Fanny, I shaped her eyebrows, her eyes and her lips. I thought the different rather huge than Tiwi's.
I
Fanny & me
And, I love my candid shot of Fanny, before she left the boarding house. =)
Do you see the roses on the side of her hijab? Yes, I did it too! I did Tiwi's & Fanny's headdress. I smiled ear to ear after they go to the auditorium at the sharp time. =D
Then, my second agenda was being (one of) the discussant of c2o's DIY Talk. I'm honored, once again, because when I saw into another discussant names, all of them had the experiences, chances and challenges which are harder and tougher than me. Even all of them had the education background in Design degree. Had met new people, new world. This is my first meeting into design constellation in Surabaya. I hope this discussion could bring a new step further, in any aspects (of design in Surabaya, and/or Indonesia).
the discussants: Mas Ghuby (Global Applework), Mas Bayu (Graphichapter), Mbak Maritjee, me, Mbak Nitchii, Ayos
pardon my ugly feet. =P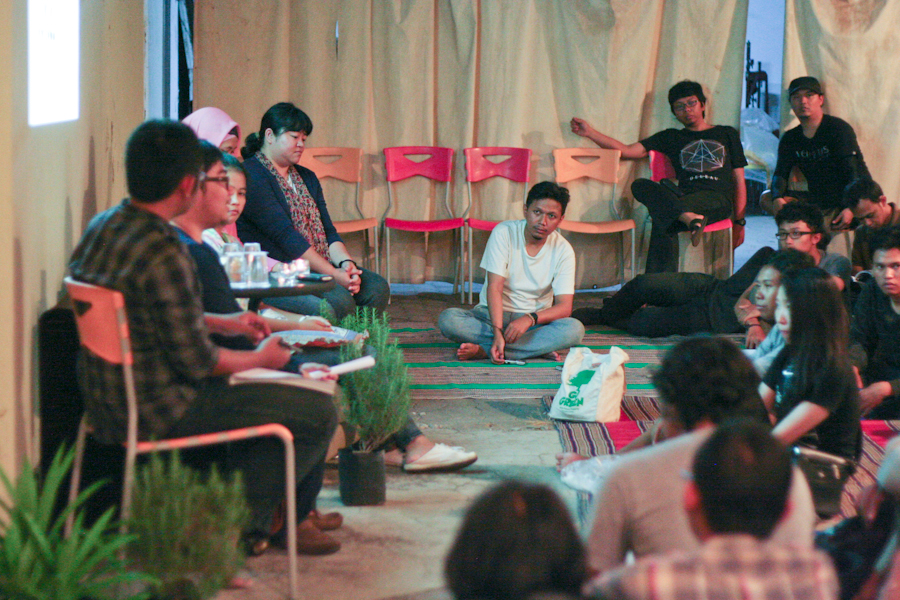 the ambiance of the talks
If you wanna check the discussion result, click here. Unfortunately, it's only available in Indonesian. Hmm, there are still many stories. Check on you later, fellas! =*